HIIIII TO ALL MY NEW
ontd_pixar
FRIENDS.
OMG I SAW TOY STORY 3 AGAIN TODAY AND GUESS WHAT. IN THE SEMI-BEGINNING, WHEN ANDY'S MOM GOES INTO SUNNYSIDE, BONNIE IS PLAYING WITH THAT CREEPY MONKEY.
ALSO, ANDY'S LAST NAME IS DAVIS. A
ND I STILL DON'T GET WHY HIS MOM IS LIKE "OH, JEREMY..." WHEN ANDY'S STUFFING HIS FACE WITH CAKE.
lol nvm I have issues with hearing. xD
JSYK I HAD COFFEE TODAY.
I have a meme! A Disney one! Kinda. Well. You might all just think I'm crazy now for thinking Disney characters are hot, but whatever. TY
disneygirl89
for giving me the idea! :D
Obviously I am insane.
How It Works
1. I picked ten female and ten male Disney characters I find attractive.
2. Each day, I'll make a poll, and you will vote for the man and woman you find
least attractive
. The person in each poll with the most votes is eliminated.
3. Please vote based on how attractive you find the person, not how much you like/dislike them or their work.
4. At the end of ten days, we will have a winner of these polls!
5. After that, the male and female wild cards (the characters with the most votes in the separate polls - they CAN'T be the same ones as listed before) will go against the winners to find out who TRULY is the hottest Disney character. =O
(I'm only using face characters and screencaps, none from David Kawena's Disney Heroes collection even though they're OMGAMAZING. I just don't think it'd be fair. :P)
Prince Naveen
from The Princess and the Frog (face character pic (c)
harikou
)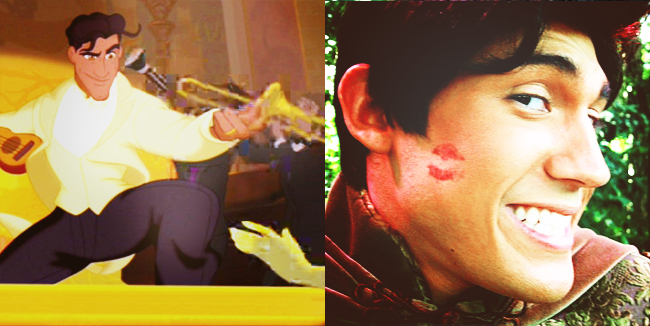 You can't deny it, he may be THE sexiest Disney character ever. He's the Disney playboy, and you can bet that he's gotten into lots of girls' pants. He just oozes adorableness and sexiness. "Tiana... she is my Evangeline." Bruno Campos is a god.
Prince Caspian
from Narnia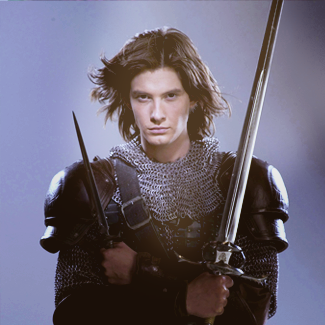 Caspian is gorgeous. His hair... unf. Okay. Moving on. xD
John Smith
from Pocahontas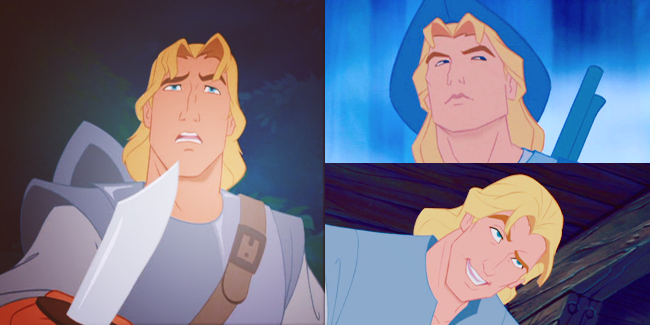 John Smith has beautiful blond hair and blue eyes, and a really cheeky smile. Also, he wants to explore. Yay exploring! (lol did you know that the whole thing with Pocahontas saving John actually happened??! I read it in my AP American textbook. It was simply a ritual to make John see the greatness of Powhatan, though. Oh well. It was still really hot.) ALSO OMG HAVE YOU LISTENED TO THE MEL GIBSON VERSION OF "IF I NEVER KNEW YOU"???? IT IS LIFE.
Tarzan
from, well, Tarzan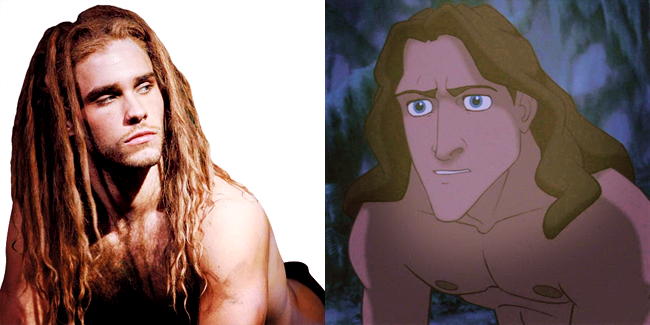 (hehehe same position)
I first saw Tarzan on Broadway in 7th grade, at a birthday party. Even at 12 I knew that Tarzan and I were MFEO. I even made up a little chant: "Tarzan, monkeyman, sitting in a tree - marry me marry me marry me please!" Josh Strickland even signed my arm! (i traced over it for weeks, and the boys in my grade thought I never showered. =() Even though he's out of the closet now, I still find him incredibly attractive. <3 Anyway, Tarzan will ALWAYS be in my heart.
Aladdin
from Aladdin
K, so I don't find Aladdin THAT attractive, but I know of people who do (*cough
princealia
cough*). Aladdin does fit the whole "tall, dark, and handsome" thing though so I guess he belongs here. :P
Prince Eric
from The Little Mermaid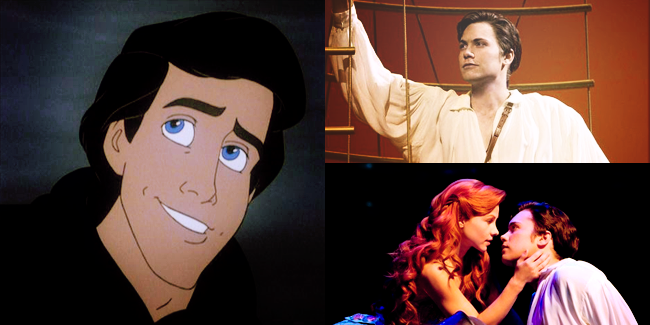 Ahhh, another one from Broadway. (I'm using Drew Seeley's version because I think he's more popular plus he's the one I saw.) Maybe in the movie he's stupid and just THERE, not really doing much, but in the Broadway show... he sings! In 3 songs! Those songs just do it for me. Plus he's like totally devoted to finding his one true love. ;)
Will Turner
from Pirates of the Caribbean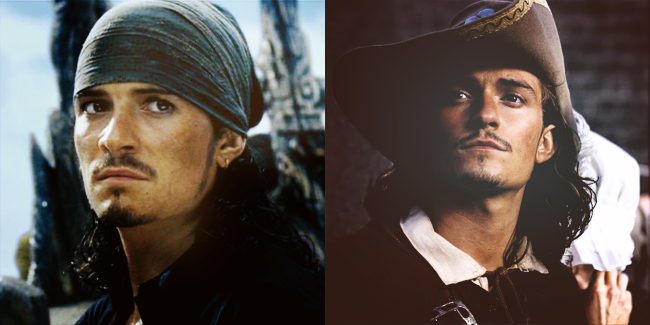 UNF. 'Nuff said.
How do I begin to explain Will Turner? Will Turner is flawless. I hear his pecs are insured for $10,000. I hear he does boat commercials... in Singapore. His favorite movie is Free Willy. One time he met Kirsten Dunst on a boat and they started making out. One time he totally killed me... it was awesome.
Woody
from Toy Story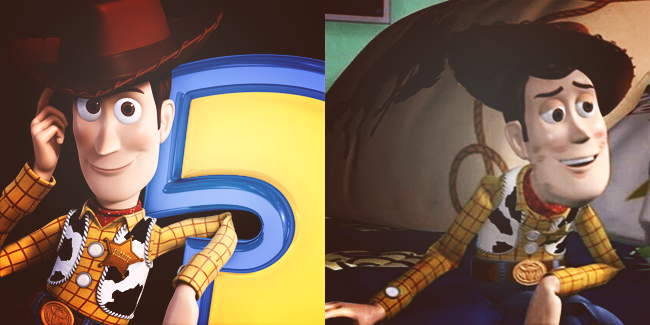 Woody is just epic. He has a saving-people-thing, and I tend to go for men like that. =P Plus there's a snake in his boot... ifyouknowhatimeanlol. ;)
Shang
from Mulan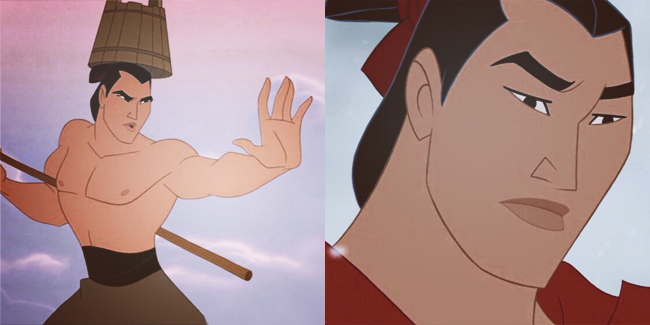 Shang is strong and silent, albeit a tad angry at times. I'm going to ignore Mulan 2, though, because he looked pretty ugly in that one. =/
Andy
from Toy Story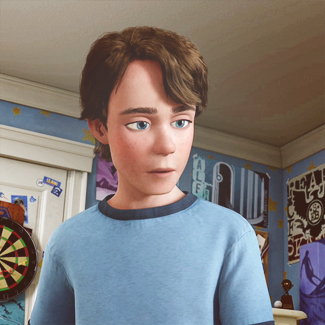 ANDY. HELLO. (I mean the grown-up version, duh, what do you think I am, a pedophile? Well, don't answer that. I am making this post, after all.) Anyway, Andy would make a great daddy, and it's the DNA in me that goes for that type. His eyes are a brilliant shade of blue, and he has just a sprinkling of freckles across his nose that makes him oh-so-adorable.
(I was gonna do Woody and Ken but I felt weird because they're toys and that's just too much for me. :/ I do think they're sexy, though.)
Nvm I decided to add Woody. :P
Who is the LEAST hottest male Disney character?
FEMALE TIME.
Belle
from Beauty and the Beast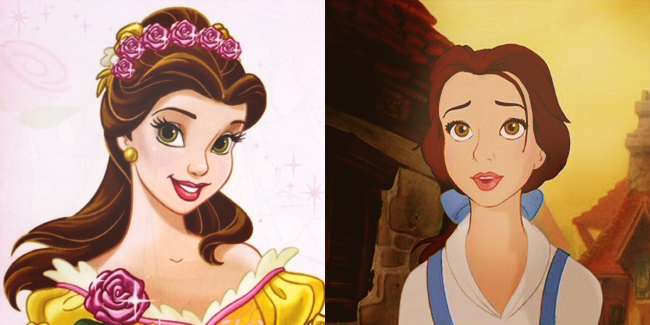 Gorgeous hazel eyes, wavy brown hair, and she's smart! What else do you want??
Susan Pevensie
from Narnia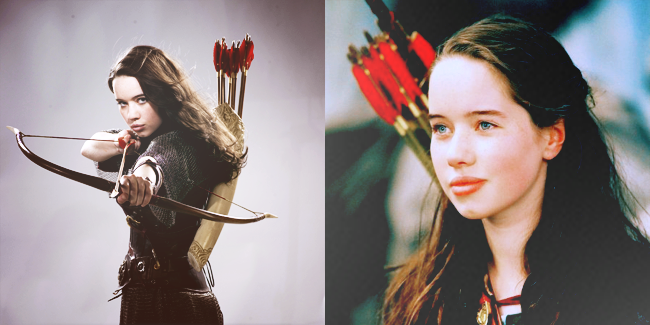 Anna has pale, flawless skin, really pretty blue eyes, and she's British! ( actually have a page of her ripped out of a magazine hanging on my wall, and whenever anyone asks who she is I'm like IT'S SUSAN FROM NARNIA, DUH.) It's sad that she wasn't able to go back to Narnia in the later books, but oh well. I still love her. :)
Megara
from Hercules
Her hair. Her hips. her attitude. What can I say, I have a weak spot for bad-ass girls. =D (Fun fact: the woman who voices Meg, Susan Egan, also was the original Belle on Broadway!)
Esmeralda
from The Hunchback of Notre Dame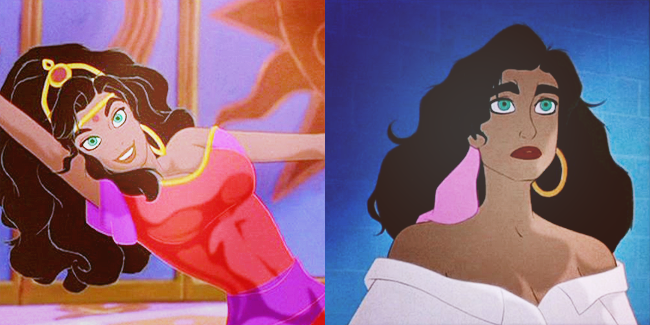 Her eyes are an intense shade of green, and boy, can she dance! <-- totally lame but idk what else to say
Mulan
from Mulan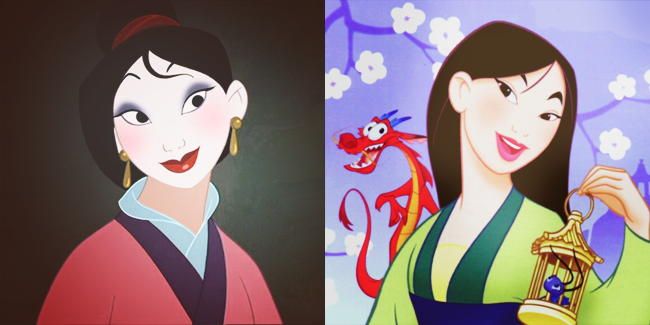 Mulan is also bad-ass. She's noble. She stands up for what she believes in. Also, she and Shang are really cute together.
Pocahontas
from Pocahontas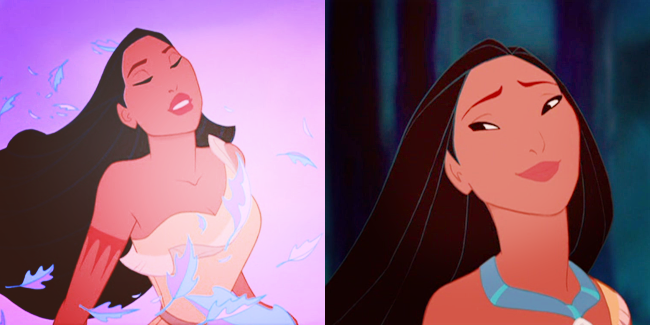 Pocahontas has a certain beauty to her. I love how she's always at peace with herself. :)
Ariel
from The Little Mermaid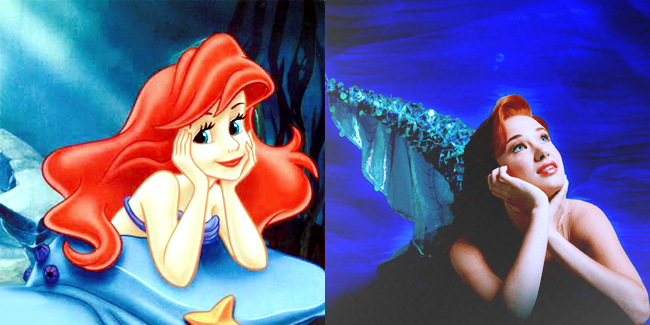 Ariel is adorable. The end. :P
Elizabeth Swann
from Pirates of the Caribbean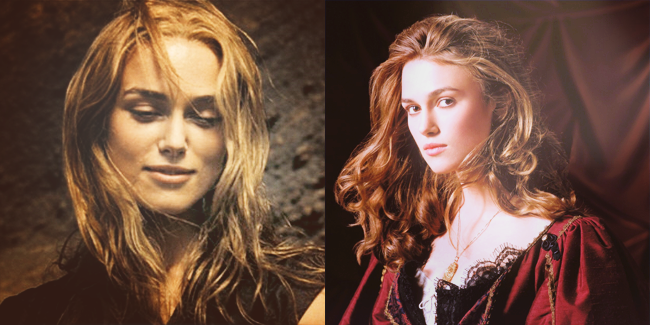 Two words: Keira. Knightley. That is all.
Colette
from Ratatouille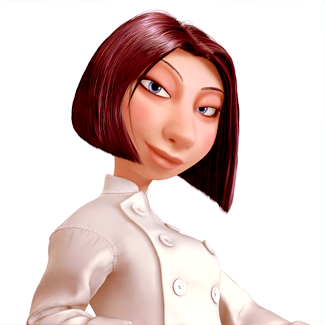 Colette is a really random one. I love her French accent and her nose. :P
Giselle
from Enchanted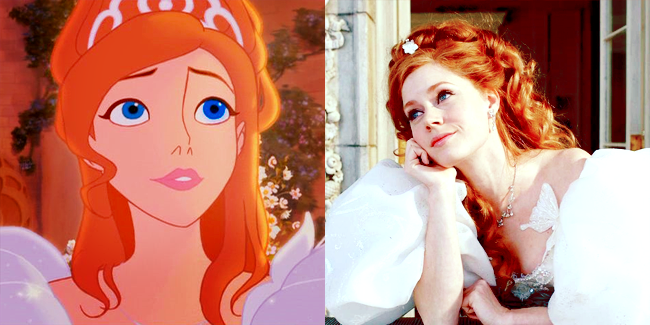 AMY. ADAMS.
(I was gonna put the person that Idina Menzel plays, but I felt it wouldn't be fair b/c she has like two lines...)
Who is the LEAST hottest female Disney character?
Who do you think is the hottest male Disney character?
Who do you think is the least hottest female Disney character?
ETA: ignore the last two questions, I made a boo-boo. xD
MISSED MARKS: MEN/WOMEN I THINK ARE ATTRACTIVE BUT DON'T HAVE ENOUGH ROOM TO BE INCLUDED: Ken, Prince Adam, Milo, Peter/Edmund Pevensie, Jack Sparrow, Helga, Audrey, Cinderella, etc. You know. Basically everyone. :P
And OMG - slightly unrelated, but did you know that the Aladdin show at Disneyland is going to close in August, and will be replaced by - get this - TOY STORY THE MUSICAL. I'm speechless. I love the Aladdin show (Genie is life), but this sounds like it's going to be amazing! Ugh, now I actually will have to go there again, for that and the World of Color. Damn. I like Disney World so much better, though! Look, it'sBuzz and Woody
! Umm nvm apparently it's been canceled for awhile. xD *fails*
feelings:

hyper